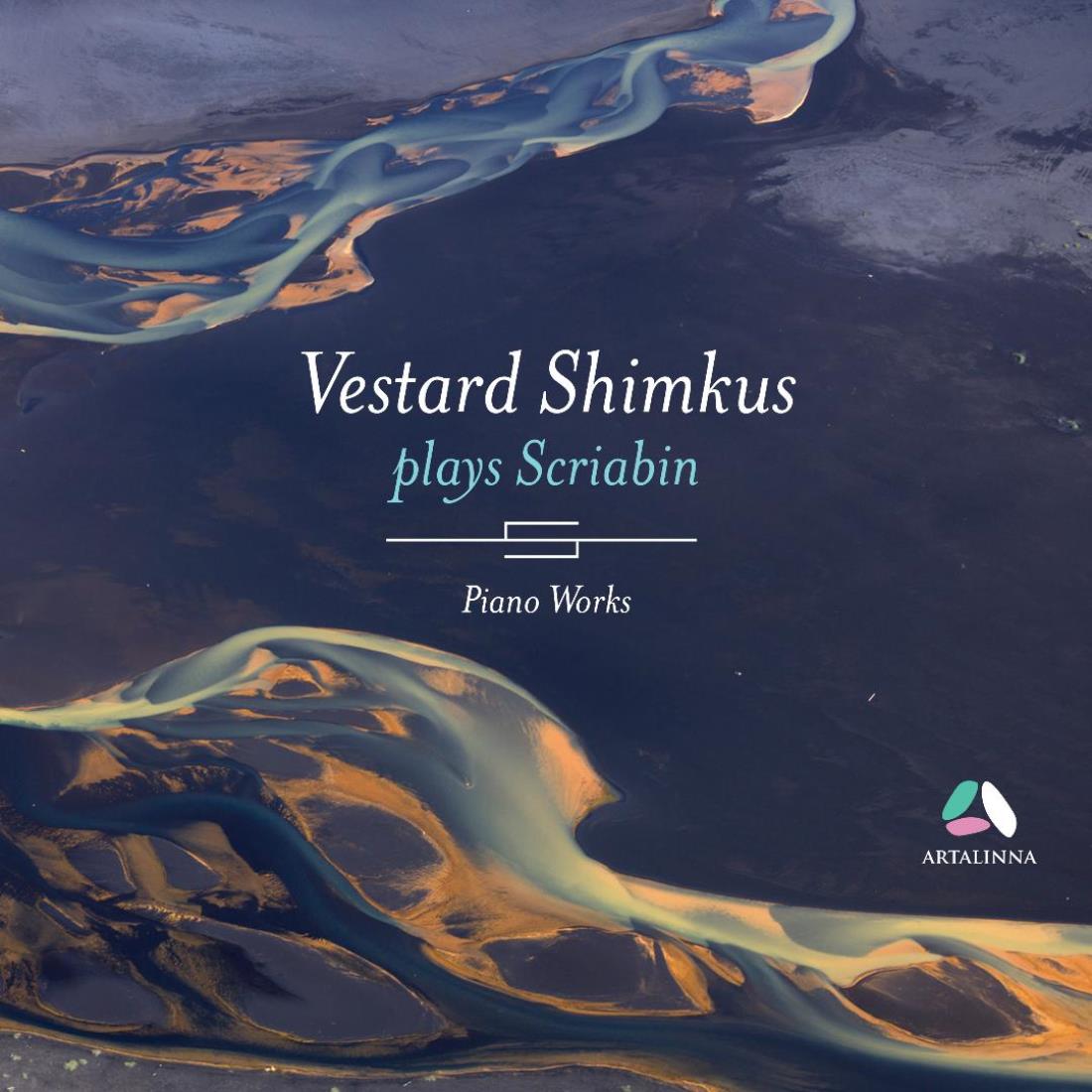 Scriabin
Vestard Shimkus, piano
After a first album for Artalinna dedicated to Rachmaninoff, released in 2014, Vestard Shimkus now invites us on a journey to the heart of the work of Scriabin, one of his favourite composers, alternating "miniatures" (Feuillets d'album, Preludes) and large forms (Poème-Nocturne, Sonatas). Shimkus' interpretations, devoid of violence, emphasize the formal clarity and harmonic modernity of the Russian composer, at times revealing unprecedented colours (Sonata No. 4). An album that showcases a singular and expressive universe.
Nach einem ersten Rachmaninow-Album, das 2014 bei Artalinna erschienen ist, lädt uns Vestard Shimkus nun zu einer Reise ins Herz von Skrjabins Werk ein, auf der er abwechselnd "Miniaturen" (Albumblätter, Präludien) und lange Stücke (Poème-Nocturne, Sonaten) seines Lieblingskomponisten vorträgt. Shimkus' gewaltfreie Interpretationen heben die Klarheit der Architektur, die Modernität der Harmonik des russischen Komponisten hervor und entfalten dabei ungewöhnliche Klangfarben (Sonate Nr. 4). Dieses Album bringt eine eigenartige und ausdrucksvolle Welt wirklich zur Geltung.
Après un premier album pour Artalinna dédié à Rachmaninov paru en 2014, Vestard Shimkus nous invite aujourd'hui à un voyage au cœur de l'œuvre de Scriabine, l'un de ses compositeurs de prédilection, alternant « miniatures » (Feuillets d'album, Préludes) et grandes formes (Poème-Nocturne, Sonates). Dénuées de violence, les interprétations de Shimkus mettent l'accent sur la clarté formelle, sur la modernité harmonique du compositeur russe, non sans dévoiler par ailleurs des couleurs inédites (Sonate No. 4). Un album qui porte haut un univers expressif si singulier.
LE PROGRAMME
Alexander Scriabin (1872-1915)
Prelude in B major, Op. 2 No. 3
Fantasie in B minor, Op. 28
Piano Sonata No. 4 in F-sharp major, Op. 30
Valse in A-flat major, Op. 38
Feuillet d'album in E-flat major, Op. 45 No. 1
Feuillet d'album in F-sharp major
Feuillet d'album, Op. 58
Poème-Nocturne, Op. 61
Piano Sonata No. 6, Op. 62
5 Préludes, Op. 74
INFORMATIONS SUPPLÉMENTAIRES
Enregistré à St. John the Evangelist, Oxford (Great Britain), 26-27 August 2017.
A 24bit/96,0kHz recording by Frédéric Briant
Notice en anglais, allemand, français et italien
Date de sortie : 5 avril 2019
Un album de la collection « Paesine »
CE QU'EN DIT LA PRESSE
« Le jeune homme a une telle conscience de la noirceur de cet univers qu'il semble en être le compositeur, littéralement il parle la langue de Scriabine comme personne ne l'aura parlé depuis Vladimir Sofronitzky, assumant ses étrangetés, ses ellipses, ses heurts surtout qui détruisent le romantisme et abordent de nouvelles galaxies de sons. »
(Jean-Charles Hoffelé, Discophilia, 9 avril 2019)
« Un beau disque »
(Rodolphe Bruneau-Boulmier, France Musique, 15 mars 2019)
« Das deutlich zu machen hat Shimkus alle nötigen dynamischen Mittel und Farbschattierungen, um die jeweilige innere Textur der diversen Stücke offenzulegen, von verhaltener Ruhe bis zur wild hämmernden Erregung. »
(Rémy Franck, Discophilia, 5 avril 2019)
POUR COMMANDER L'ALBUM
CD également en vente sur Amazon et dans tous les magasins physiques.
Disponible également sur toutes les plateformes de téléchargement légal, comme Qobuz, iTunes, Apple Music, etc.