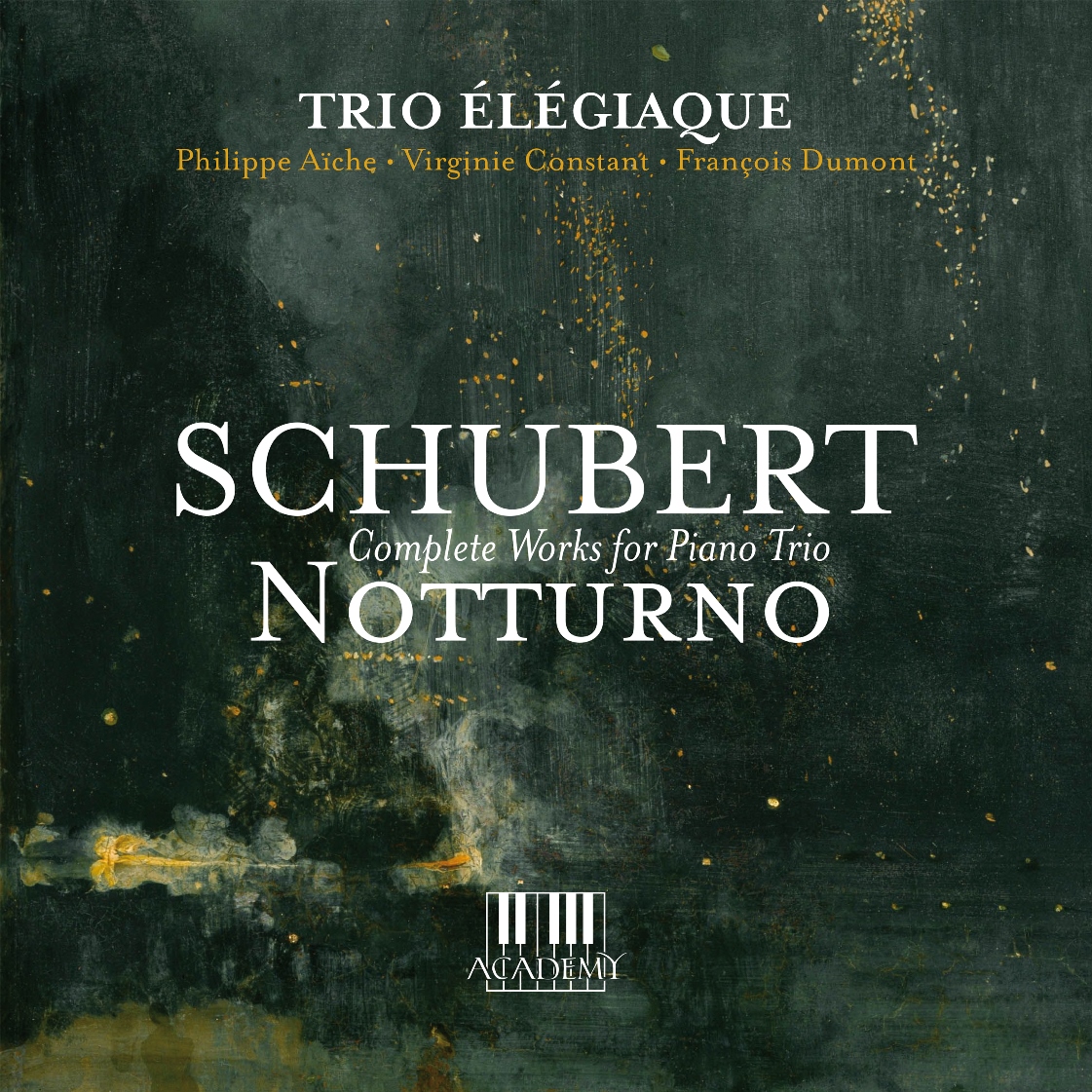 Notturno
Schubert
Complete Works for Piano Trio
Trio Elégiaque
In the great tradition of groundbreaking interpretations of these timeless works, this new version of the Trio Elegiaque is remarkable; one that resonates with the finest music making of today: a profound sounding of the inner life of the works and Schubert's hallucinatory world. A revelation accomplished by an amazing transparency of the text coupled with a virtuosity never experienced before in these thrilling moments of music!
In der Geschichte der neuen Interpretationen dieser zeitlosen Werke von Schubert zeichnet sich diese neue Einspielung vom Trio Elegiaque aus, als bester Beweis für die Kunst, heutzutage Musik zu machen. Die drei Musiker haben tiefe und bezaubernde Klangfelder gefunden, wodurch sie das Innere Leben am besten wiedergeben, das Schuberts phantasmagorischer Welt so eigen ist. Eine echte Entdeckung, die der Klarheit des Textes und der unerhörten Geschmeidigkeit in der Virtuosität zu verdanken ist.
Dans l'histoire des interprétations novatrices de ces œuvres éternelles de Schubert se distingue aisément ce nouvel enregistrement du Trio Élégiaque, qui témoigne au plus haut point de l'art de faire de la musique aujourd'hui. Les trois musiciens ont trouvé un son d'une profondeur envoûtante, révélant au plus près la vie intérieure propre au monde hallucinatoire de Schubert. Une véritable révélation, rendue possible par le souci de transparence du texte et une souplesse dans la virtuosité inédite à ce jour.
LE PROGRAMME
Franz Schubert (1797-1828)
Trio No. 1 en si bémol majeur, Op. 99, D. 898
Notturno en mi bémol majeur, Op. 148, D. 897
Sonatensatz en si bémol majeur, D. 28
Trio No. 2 en mi bémol majeur, Op. 100, D. 929
INFORMATIONS SUPPLÉMENTAIRES
Enregistré à Sala Schnabel, International Piano Academy Lake Como, Italy, 12-14 January 2016.
A 24bit/96,0kHz recording by Paolo Guerini
Notice en anglais, allemand et français
Date de sortie : 12 janvier 2018
CE QU'EN DIT LA PRESSE
« son Schubert, si allant et pourtant si détaillé, sans pathos, joué comme du Mozart, comme du Mozart touchant au cœur. Le Notturno, qui nomme l'album, n'aura jamais été si bien joué, grand lied de ténèbres d'une poésie envoûtante. »
(Jean-Charles Hoffelé, Discophilia, 10 Février 2018)
POUR COMMANDER L'ALBUM
CD également en vente sur Amazon.
Disponible également sur toutes les plateformes de téléchargement légal : Qobuz, iTunes, etc…