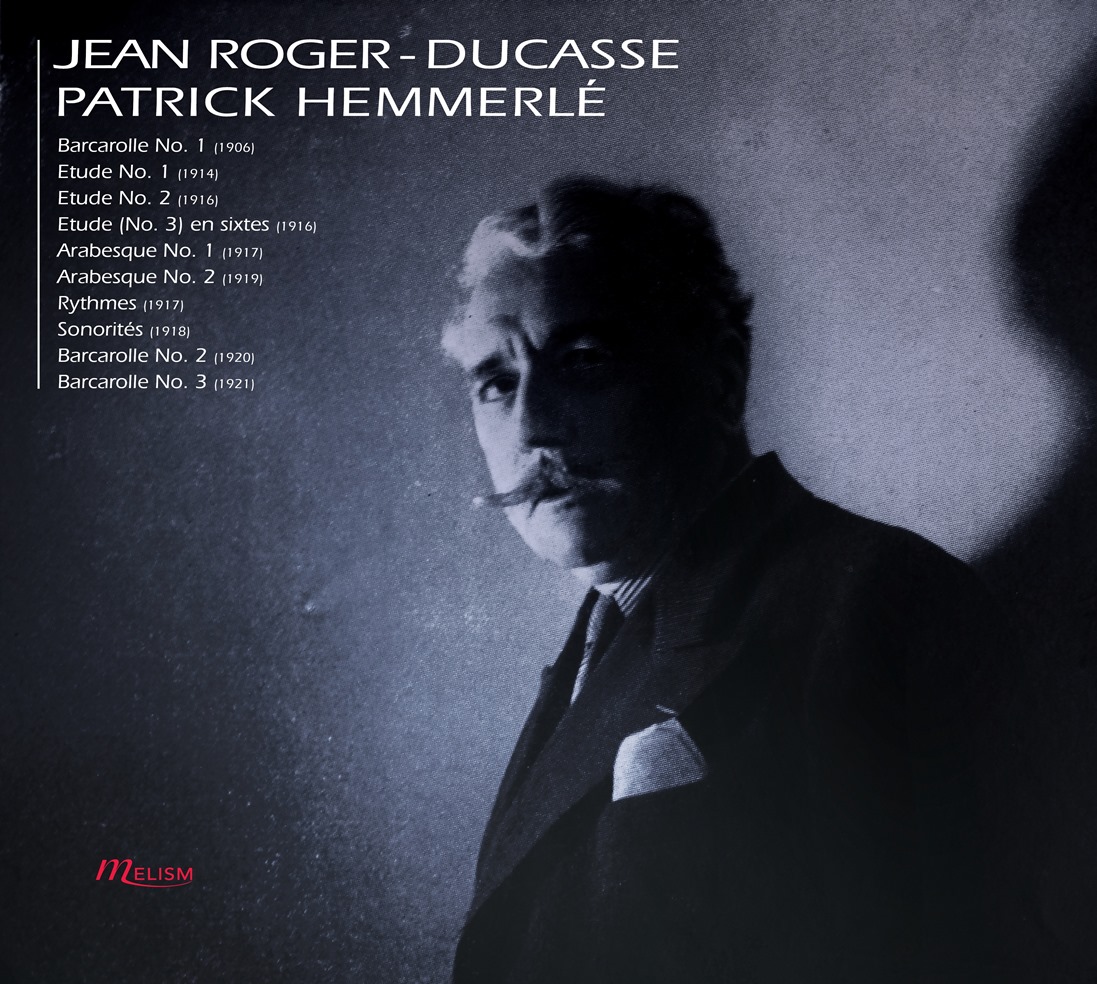 Roger-Ducasse
Patrick Hemmerlé, piano
Roger-Ducasse is one of the many French composers whose music has been overshadowed by the historical proximity of Debussy and Ravel. The passing of time allows for a more reasoned and just evaluation of his music, both sensual and cerebral, where sensibility is in disguise, and hides behind an extreme refinement and complexity. The wonderful acoustic of the Temple St. Marcel, in Paris, together with the magnificent Bechstein used for this recording both contribute to create a spellbinding sound world. A CD warmly recommended to every lover of French music looking for new discoveries.
La musique de Roger-Ducasse, comme celle de nombre de compositeurs français de cette époque, a beaucoup souffert de sa proximité historique avec Debussy et Ravel. Le recul du temps nous permet de mieux appréhender l'œuvre de ce compositeur fascinant, dont la musique reflète une personnalité d'une singulière richesse, à la fois cérébrale et sensuelle, où la sensibilité se déguise et se cache derrière une étourdissante complexité. La merveilleuse acoustique du Temple Saint-Marcel à Paris, et le magnifique piano Bechstein utilisé pour cet enregistrement de haute volée contribuent à créer un environnement sonore envoûtant. Un indispensable pour tous les amateurs de musique française en quête de découvertes.
CE QU'EN DIT LA PRESSE
LE PROGRAMME
Jean Roger-Ducasse (1873-1954)
Barcarolle No. 1
Etude No. 1
Etude No. 2
Etude en sixtes
Arabesque No. 1
Arabesque No. 2
Rythmes
Sonorités
Barcarolle No. 2
Barcarolle No. 3
INFORMATIONS SUPPLÉMENTAIRES
Enregistré au Temple Saint-Marcel, Paris (France), Mars et Septembre 2018.
A 24bit/44,1 kHz recording by Nikolaos Samaltanos
Notice en anglais, et français
Date de sortie : 14 juin 2019
Premier volume d'une série dédiée à la musique française, initiative commune aux labels Melism et Artalinna.
CE QU'EN DIT LA PRESSE
« Roger-Ducasse's First Barcarolle is modelled on Chopin's and contains moments of the most exquisite French delicacy. Hemmerlé's piano is a round-toned Bechstein, superbly prepared with a deliciously sweet upper treble. One has to agree with Hemmerlé as to the stature of the Second Barcarolle: it certainly towers on a disc of already excellently crafted music. A superb, eye-opening album, beautifully recorded. »
(Piano International, April 2020)
« [Hemmerlé] a construit un programme parfait, herborisant uniquement dans les chefs-d'œuvre de ce compositeur que je n'en finis pas de découvrir, en m'émerveillant. Impossible de ne pas vous laisser fasciner par ce disque vampirique. »
(Jean-Charles Hoffelé, Discophilia, 18 juin 2019)
POUR COMMANDER L'ALBUM
CD également en vente sur Amazon et dans tous les magasins physiques.
Disponible également sur toutes les plateformes de téléchargement légal, comme Qobuz, iTunes/Apple Music, etc.