Heather Harper et Paul Hamburger avaient gravé une version splendide du cycle A Song for the Lord Mayor's Table, où Walton s'amusait à dépeindre le Londres georgien, précipité d'humour et d'humeur avec un petit côté Poulenc qui veut une voix grande, et surtout de fort caractère.
J'avais un peu peur de voir Carolyn Sampson s'y risquer, j'avais tort, elle n'en fait qu'une bouchée, comme des trois Songs tirés de Façade : la fausse innocence de Daphne où Joseph Middleton fait trembler dans son piano son devenir de laurier, la fantaisie espagnole de Through Gilded Trellises, l'envoi jazzy de Old Sir Faulk ! Comme elle vous envoie tout ça ! Formidable l'abatage !, avec l'œil qui frise en plus !
Mais ce récital étoilé ne regarde pas que du côté spectacle. Les pastiches mozartiens d'Orpheus with his Lute ou purcellien de Silent Noon coulés de la plume amoureuse de Ralph Vaughan Williams, le bouquet si émouvant des Bridge, rares et tendant au sublime, les Quilter inquiets, qu'ils soient visionnaires ou pastoraux, le quintette de poèmes de Philip Larkin mis en musique entre rêve désillusionné et révolte par Huw Watkins qui s'affirme comme le nouveau mélodiste d'Albion, confirment que la mélodie anglaise du XXe siècle a trouvé son nouvel archange.
LE DISQUE DU JOUR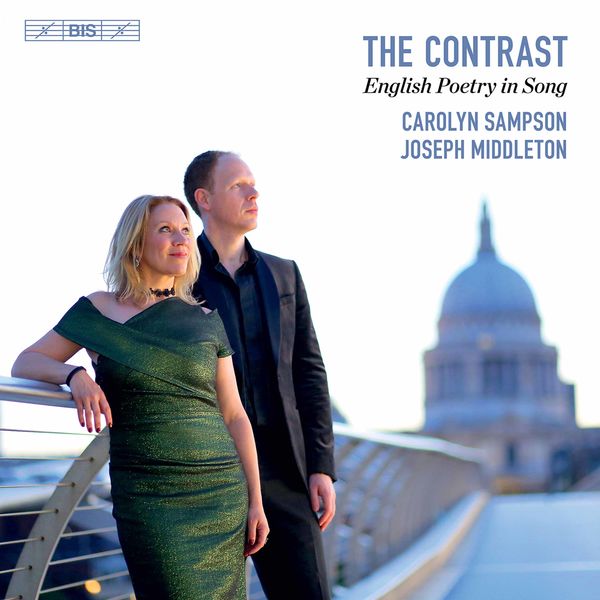 The Contrast
English Poetry in Song
William Walton (1902-1983)
A Song for the Lord Mayor's Table (version pour soprano
et piano)
3 Songs to Poems after "Façade"
Ralph Vaughan Williams (1872-1958)
Orpheus with His Lute (No. 3, extrait des "3 Songs from Shakespeare")
The Sky above the Roof
Silent Noon (No. 2, extrait de "The House of Life")
Frank Bridge (1879-1941)
Go Not, Happy Day, H. 34
When Most I Wink, H. 5
Adoration, H. 57
Come to Me in My Dreams, H. 71
When You Are Old, H. 142
Mantle of Blue, H. 131
Love Went a-Riding, H. 114
Huw Watkins (né en 1976)
5 Larkin Songs
Roger Quilter (1877-1953)
Dream Valley, Op. 20 No. 1
7 Elizabethan Lyrics, Op. 12
(3 extraits : III. My Life's Delight, VI. By a Fountainside, VII. Fair House of Joy)
Arab Love Song, Op. 25 No. 4
Autumn Evening, Op. 14 No. 1
Carolyn Sampson, soprano
Joseph Middleton, piano
Un album du label BIS Records BIS-2413
Acheter l'album sur le site du label BIS Records ou sur Amazon.fr – Télécharger ou écouter l'album en haute-définition sur Qobuz.com
Photo à la une : la soprano Carolyn Sampson – Photo : © Marco Borggreve